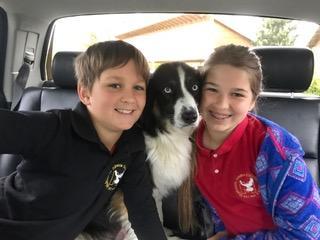 Our wonderful sweet dog, Skittles, had a major life threatening accident and when our regular vet and several other vets could not take her, we called Companion Pet Clinic and they took her in! They saved our Skittles!
From that very day Companion Pet Clinic showed that they cared for us and our dear pet and had our best interests at heart. We thought we were going to lose her but Dr. Van Hoef assessed Skittles and got back to us very quickly. They went above and beyond and still do. Following surgery, they gave her the very best daily care with healing laser treatment and bandage changes. And they were more than reasonable with their charges.
All the staff at Companion pet are caring, helpful and friendly. They never act like we are asking dumb questions and are always patient and willing to explain whatever we ask.
Six weeks ago, Skittles had 10 puppies! I would say she is completely recovered. Thank you!!
Holly, Nathan, Myla and Jonah Pearson