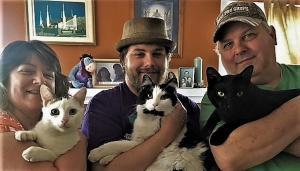 Brenda, Kelly and Thomas Fields
Kelly works at the steel mill and there were 2 little kittens who shouldn't have been away from their mama that were dug out of a pile of steel; they were covered in fleas and dirt. Companion Pet helped us know what to do and gave them the care they needed to survive. When Callie and OJ contracted cancer, they helped us make them comfortable and when Callie had to be put down, they were so sweet and nice; they gave us options and they really cared for us. They spent time with us; they had compassion and even the doctor had tears in her eyes.
Over a year ago we acquired Chip (for Chocolate Chip) and Neo (for Neopolitan), from Homeward Bound and took them in for their first shots. Soon after a friend found a stray kitten in a garlic crate shipped up from California. We fell in love with "her" who actually turned out to be a "him" and named him Blue for the blue eyes that turned green. He was filthy and covered in fleas just as our first 2 rescued cats and Companion Pet helped us with formula and support as Brenda played mom. Blue still cuddles on Brenda's neck.
The staff are all SO nice! They actually care about your pet – they talk to your pet and ask about their well being. They treat your pet as if it was their own. Whenever there needs to be a procedure, they explain and give us options and prices.
Thank you Companion Pet for how you take care of our family.